December 19, 2022 1:49 pm
UAE launches AI-powered mobile app to detect crop disorders
Helps bridge the gap between advanced technology and everyday users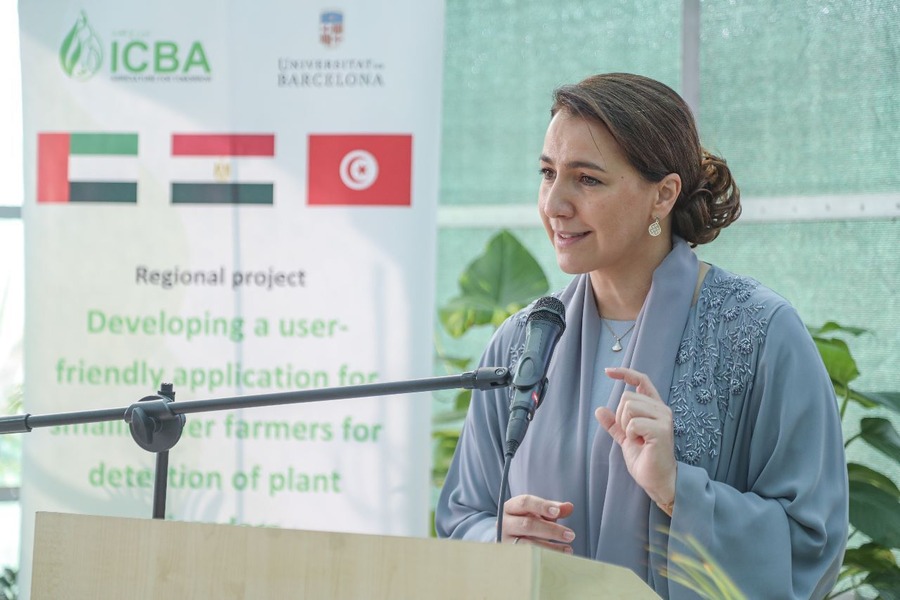 UAE's Minister of Climate Change and the Environment, Mariam bint Mohammed Almheiri (Photo credit: WAM)
Using Artificial Intelligence (AI) to address a pressing concern, UAE's International Center for Biosaline Agriculture (ICBA) has launched an AI-powered mobile app to aid small farmers spot over a dozen common crop disorders. 
Unveiled by UAE's Minister of Climate Change and the Environment, Mariam bint Mohammed Almheiri, the app named Dr. Nobat was developed by ICBA together with the University of Barcelona, Spain.
Read more: Agriculture sector in UAE to contribute AED 19.3 bn to GDP by 2025
As part of the project, ICBA collected raw data from different countries in the region to help train the AI model, which was developed by the University of Barcelona. The application was field-tested extensively between 2020 and 2022, before its launch.
Available on the Google Play Store, Dr. Nobat can identify 18 different common disorders that affect three popular cash crops, namely tomato, capsicum, and cucumber. According to ICBA, these three are high-value vegetables that small-time farmers in water-deficient regions where traditional cropping is not viable. These three cash crops are usually cultivated inside a controlled environment.
Need of the hour
The ICBA hopes the app could revolutionize food security. Referring to figures from the Food and Agriculture Organisation of the United Nations, the ICBA argues that the annual loss in crop production due to pests and diseases can be as high as 40% globally.
Expressed in terms of money, plant diseases cost the world's economy around $220 billion, and invasive insects around $70 billion, every single year.
Referring to small-time farmers as the backbone of many agricultural economies all around the world, Director General of ICBA, Dr. Tarifa Alzaabi said despite their importance to ensuring food security these farmers often lack access to information to protect their crops against pests and diseases. Dr. Nobat is ICBA's answer to equipping these farmers with advanced technology to help them make better-informed decisions about their crops.
"Crop disorders and pests pose a major challenge to smallholder farmers in the Middle East and North Africa. Intelligent systems such as this application can play a crucial role in making prompt diagnoses and taking effective and timely action," reiterated Dr. Henda Mahmoudi, a plant physiologist and project lead at ICBA.
Almheiri agreed, adding that the app is a prime example of how technology can be used to address pressing concerns. "In the face of ever-rising challenges, with climate change at the forefront, we believe that technological interventions will optimize agricultural practices, enhance harvest quality and quantity, and notably improve the lives of farmers," asserted Almheiri. 
Besides UAE, the app is presently customized for Egypt, and Tunisia as well, with plans to roll it out in other countries in the future. Along with the app, ICBA has also released a fully-functional web-based version of the app as well, which already works around the world taking a major step towards ensuring food security, not just in the region, but for everyone globally.
Exclusives