INSEAD, recognizing the Middle East's tremendous potential as a hub for innovation and entrepreneurship, has been at the forefront of integrating Virtual Reality (VR) teaching and learning into its educational approach. Through this pioneering effort, the school aims to offer students faster learning, enhanced information retention, and the opportunity to actively engage in solving challenging and complex problems. 
A significant milestone in this endeavor is the creation of the world's largest VR library for management education, which boasts an impressive collection of 20 VR Immersive Learning Experiences. 
In line with its commitment to fostering a global community interested in immersive experiences and sharing best practices, INSEAD hosts the Global XR Management Community. This initiative seeks to encourage and facilitate vibrant discussions and collaboration among individuals from all over the world. 
To shed light on the various aspects of INSEAD's innovative initiatives and programs, Economy Middle East conducted an insightful interview with Ithai Stern, Associate Professor of Strategy and Academic Director of the VR Immersive Learning Initiative at INSEAD.  
What were the top three takeaways offered by academics and scholars in the first annual meeting of the global XR management community in early June?
The INSEAD Immersive Learning Initiative, situated at the INSEAD Middle East Campus in Abu Dhabi and supported by the Abu Dhabi Department of Education and Knowledge (ADEK), embodies a cutting-edge and forward-thinking approach to education. 
With 42 scholars from 24 global institutions presenting at the meeting, our objective was to foster a community of scholars who are already leveraging new technologies in their teaching and research. The meeting yielded three pivotal insights: 
Firstly, an increasing number of schools have begun exploring the use of Virtual Reality (VR) in management education. Through our gathering, we successfully generated momentum to expand the adoption of immersive learning experiences in educational institutions worldwide. 
Secondly, INSEAD has developed a comprehensive solution to enable schools across the globe to integrate VR into their curricula. Our institution has created a supportive ecosystem that complements VR integration, achieved through a synergy of four core capabilities: academic content development, production, a robust technology platform, and efficient device operations. As a result, other schools can easily access and utilize VR resources from INSEAD's library while also leveraging the platform to distribute their own VR content. 
Lastly, the meeting featured 17 research presentations centered around VR and its applications for research purposes—an emerging method that is garnering significant attention.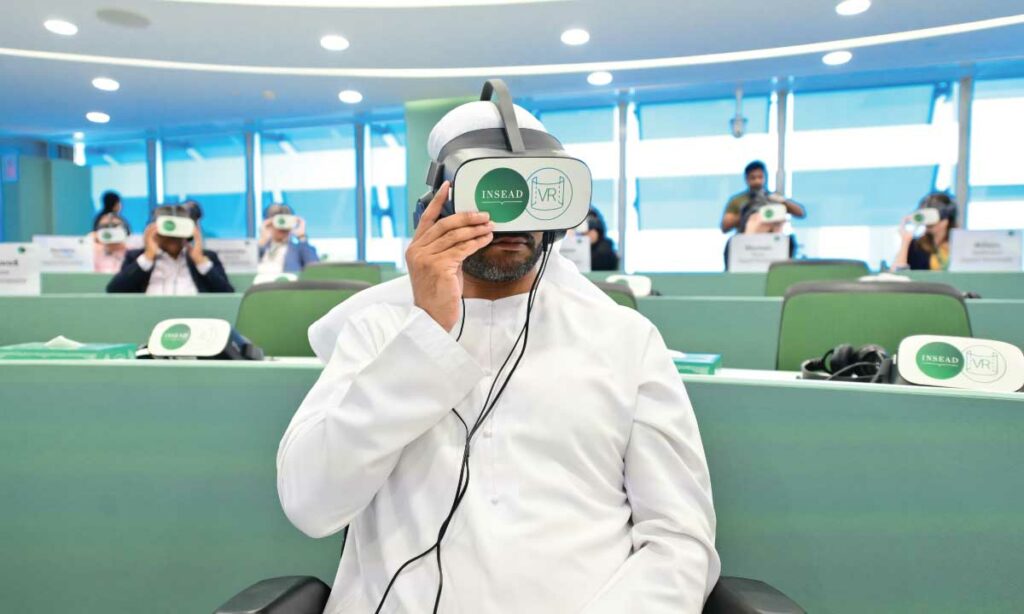 What are some of INSEAD's educational milestones over the past 10 years that helped shape and empower students in meeting today's business and technology needs in an evolving digital landscape?
INSEAD has consistently spearheaded innovation in the field of education. Over the past decade, the school has taken significant strides to address the changing demands of business and technology in the digital era, exemplified by the establishment of the INSEAD Immersive Learning Initiative. 
In addition, the INSEAD faculty conduct leading research and publish cases on various aspects of digital transformation, including technological advancements, digital strategy, innovation, and the implications of digital disruption on different industries. They contribute to a deeper understanding of the digital landscape and its impact on businesses. 
In March this year, the school launched the INSEAD Learning Hub, reinventing lifelong learning with an innovative subscription-based mobile app.  It provides a remarkably engaging educational journey, offering the latest and most relevant insights from world-renowned faculty, industry experts, and leading organizations. This platform enables individuals to embark on a personalized and self-driven learning adventure via a mobile app, accessible anytime and anywhere.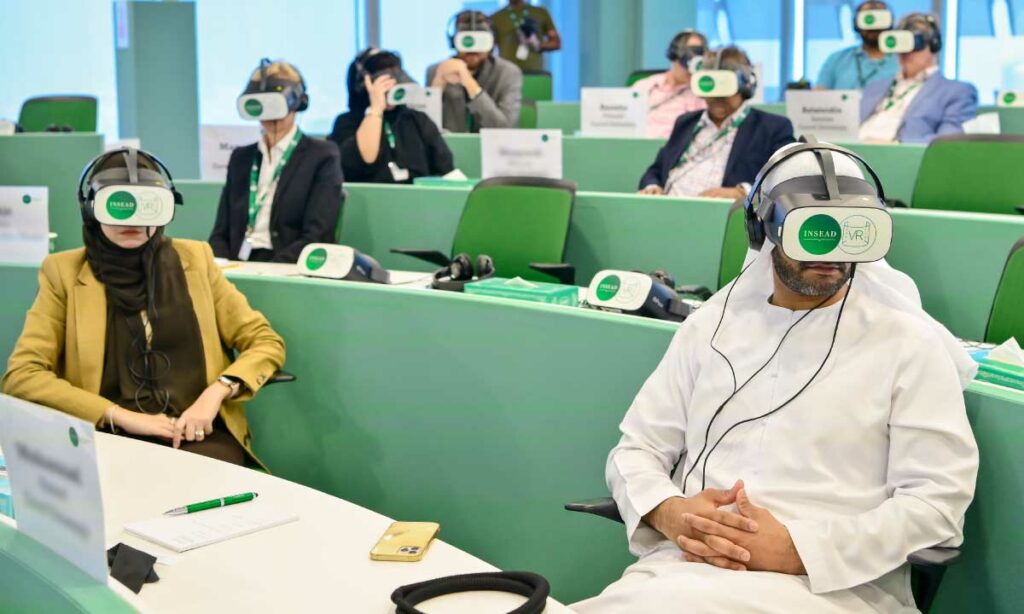 How are VR and XR transforming learning at INSEAD, and is your partnership with ADEK based on transferring that learning strategy onto K-12 curricula?
Using VR technology at INSEAD has become a remarkable reality. During the last academic year, over 5,000 learners at INSEAD actively engaged with VR, and currently, 40 professors are either integrating VR into their teaching methods or contributing to the development of immersive learning experiences using VR technology. This has significantly set INSEAD apart from other institutions.  
Our primary focus remains on higher education. To make a positive impact on Abu Dhabi's higher education ecosystem, we have extended our support to three universities in piloting VR within their classrooms: Zayed University, UAE University, and Sorbonne University Abu Dhabi. The results of these pilot initiatives have been overwhelmingly successful, leading to the formalization of our partnerships through MOUs with both UAE University and Sorbonne University Abu Dhabi. 
Furthermore, realizing the importance of nurturing business skills from an early stage, we collaborated to explore introducing VR into K12 education in the capital. This joint effort was bolstered by two highly successful pilot initiatives conducted within geography classes at the German International School Abu Dhabi. 
Building on these achievements and with ADEK (Abu Dhabi Department of Education and Knowledge) playing a key role in technology education, we recognize the significance of empowering students with the skills needed for future jobs. Thus, we have joined forces to pave the way for enhanced immersive and integrative learning experiences. Currently, we are actively exploring avenues to introduce this innovative method more broadly across schools in Abu Dhabi and adapt the teaching notes and playbooks to suit the specific context of K12 education. 
Can you prioritize the initiatives that INSEAD is engaged in or launching in the region to identify and address business challenges? What are some of these challenges?
 The pace of change in the business world is continuously accelerating, necessitating the constant updating and enhancement of people's skills and competencies. For business schools like INSEAD, it becomes crucial to devise innovative approaches that maximize the return on investments in training and education while minimizing the time required. The Immersive Learning Initiative, introduced at the ME campus in 2020, plays a pivotal role for INSEAD in achieving this goal. 
For more technology news, click here.