Travel and movement of goods across large warehouses typically command the most time and money. For a typical laborer, it's a massive endeavor. It's no sweat for robots. and there is a shortage of manpower. Some 490,000 warehouse and transportation worker jobs remained unfilled in 2022. Overall, the market is understaffed by 10 percent to 25 percent, with material handlers and forklift drivers making up the biggest gaps, at 34 percent and 31 percent. This is according to a report on 2023 Warehouse Automation Trends.
Subsequently, and according to Gartner, 95 percent of supply chain organizations have either invested or plan to invest, in cyber-physical automation,
Vishal Minocha, Infor vice president of product management said integrating robotics with a modern warehouse management system (WMS) can deliver optimal solutions and greater ROI.
He said Robotics has commanded headlines for its role in manufacturing and final assembly operations. The sector offers significantly different sizes, functionalities, mobility, dexterity, artificial intelligence capabilities, and cost.
Flying warehouse robots: Drones
Drones are becoming increasingly common and useful for indoor and outdoor operations. Their operators can program them to learn from their surroundings. They can equip them and wire them with capabilities that allow them to garner information and make decisions independently. They can do this with little to no human intervention.
Robotics-as-a-service
Typical Robotics deployment in warehouse environments came in the form of fixed assets with high price tags. Growth over the next five years will robotics perform in supply chain operations that include lower-value, potentially high-risk tasks.
The emergence of robotics-as-a-service brought robotics-led innovation to warehouses of all different sizes and profiles. Drones can undertake detailed stock counts at night, eliminating the need for people to physically check inventory.
Robotics can instill speed and drive flexibility. Third-party logistics (3PLs) companies have an advantage. They move complex merchandise mixes across numerous categories for high volumes of customers.
Warehouse automation vendor Locus Robotics said late this August that its autonomous mobile robots (AMRs) have picked over two billion units. These bots traveled in excess of 37 million miles in client warehouses. This is equivalent to more than 1,370 times around the Earth or 77 round trips to the Moon.
Read: Food delivery robots will soon take to the streets in Dubai
These warehouse robots have also ramped up pick-up pace and speed. Between its 1 billion and 2 billion-unit thresholds was just 358 days. The last 100 million picks took just 27 days, an average of 3.7 million picks per day. By comparison, it took more than 6 years to make the first billion picks, and 1,542 days to pick the first 100 million units.
Integrating Robots with WMS
The full potential of robotics can be realized if integrated via APIs with a modern, cloud-based WMS platform. This can seamlessly talk to the robots, interpret data, and inform workflows. This will increase ROI. and maximize the potential of robotics. The vast majority of decision-makers expect to deploy automation to some degree over the next year.  Four of 10 have reported strong return on investments (ROI) from previous deployment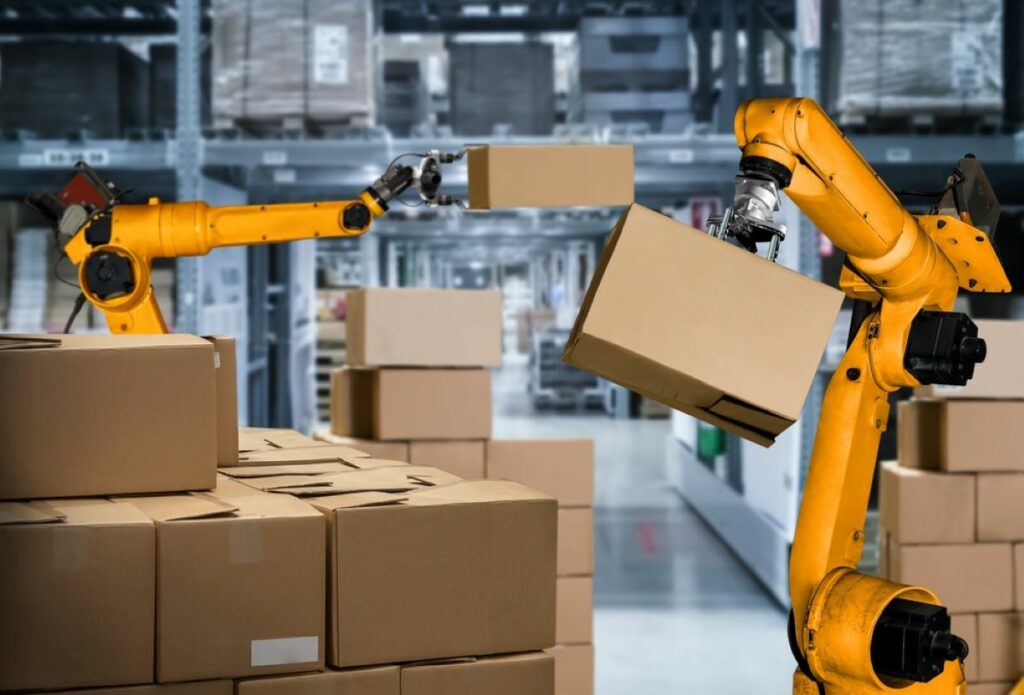 MBZUAI robotics
The Mohamed bin Zayed University of Artificial Intelligence (MBZUAI) has established two new departments and four associated graduate programs. Those were dedicated to robotics and computer science,
Global demand for these two disciplines is expected to hit $225 billion and $140 billion, respectively, by 2030.
CSRankings placed MBZUAE's existing computer vision (CV), machine learning (ML), and natural language processing (NLP) departments among the top 20 globally.
The university has also launched master's and Ph.D. programs in robotics and computer science.
The Robotics Department will focus on rigorous, high-impact, original research, emphasizing robot learning and robot algorithms rather than the development of new robot hardware.
Topics of interest include deep learning, control theory, robot manipulation, human-robot interaction, robot-assisted surgery and healthcare, among others.
Robotics is revolutionizing sectors such as manufacturing, healthcare, agriculture, and transportation. Research indicates strong demand for robotics expertise in the coming years. A predicted global talent shortage hampers this effort, with up to 85 million jobs potentially going unfilled by 2030 due to a lack of skilled people to fill them.
The Robotics Department will focus on human-centered and autonomous robotics research. It will also overlook the development of the next generation of robotics practitioners with deep skills in both AI and robotics.
For more tech news, click here.