Miral, Abu Dhabi's creator of immersive destinations and experiences, recently announced that SeaWorld Abu Dhabi, the world's largest aquarium, would open its doors to guests on May 23, 2023.
It will be the first SeaWorld outside North America and is the latest addition to Yas Island's attractions, which include Warner Bros World Abu Dhabi, Ferrari World Abu Dhabi, Yas Waterworld Abu Dhabi, and Clymb Abu Dhabi.
As Miral describes it, this next generation "Marine Life Theme Park" will "tell a captivating 'One Ocean' story that uncovers the interconnectivity between life on earth and our ocean."
The collaboration between Miral and SeaWorld Parks & Entertainment, SeaWorld Abu Dhabi, offers eight realms to explore across five indoor levels spanning about 45 acres, including the Endless Ocean realm, which will feature the world's largest and most expansive multi-species aquarium. This innovatively-designed aquarium will contain over six million gallons of water and more than 68,000 marine animals.
SeaWorld Abu Dhabi intends to deliver engaging and immersive family-friendly experiences like exciting rides, inspiring entertainment, unmatched dining and shopping, and up-close animal encounters. In all, SeaWorld Abu Dhabi will be home to over 100,000 marine animals of all shapes and sizes, with the animal habitats in each realm of SeaWorld Abu Dhabi custom-designed using state-of-the-art technology and the highest standards for animal welfare.
Read more: Miral: Leading immersive experiences in iconic destinations
The attraction is being built over five floors spanning about 183,000 square meters and includes habitats, rides, interactive exhibits, and immersive guest experiences.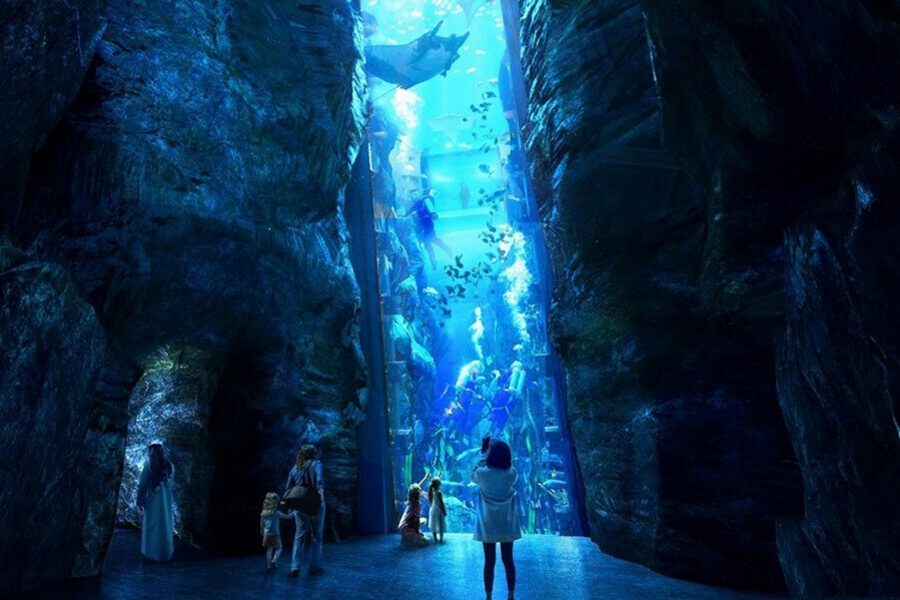 It's set to be home to the region's largest multi-species aquarium, with more than 58 million liters of water and 150 species, including sharks, manta rays, sea turtles, reptiles, amphibians, and invertebrates.
The park will also be home to hundreds of bird species, from penguins to puffins. The animals will be looked after by expert zoologists, veterinarians, nutritionists, and other animal specialists.
For more on Miral, click here.