December 8, 2022 12:59 pm
World Cup quarterfinals: Teams, predictions, schedule and more
Brazil is still the favorite to win the tournament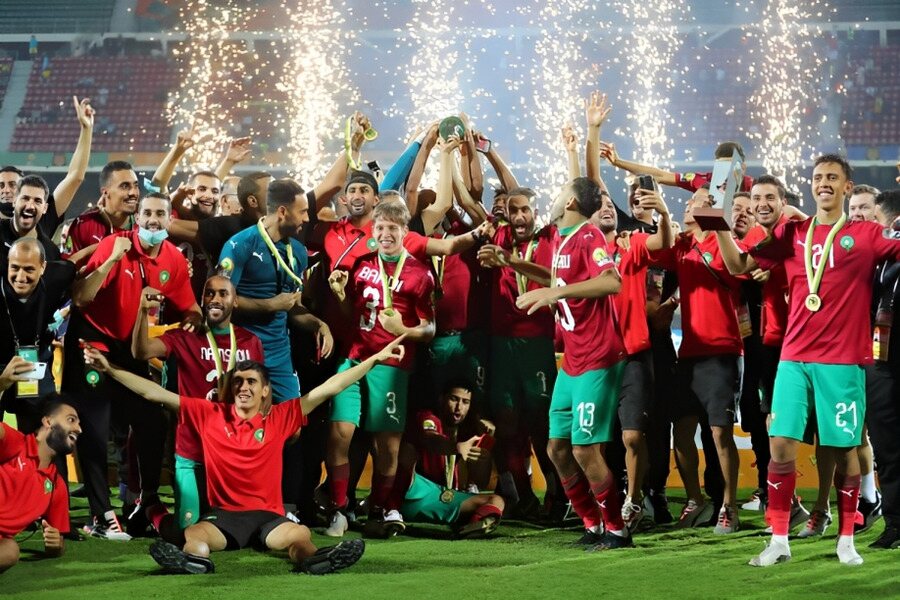 Morocco win (Photo credit: PM News Nigeria)
The World Cup Qatar 2022 quarter-finals will kick off on Friday, December 9, with the historic presence of an Arab team, the Moroccan national team, which will represent the Arab and African teams in this round.
 Running through December 14, the quarter-final matches will feature a strong presence of European teams, including France, the defending champion, Croatia, the runner-up from the previous edition, England, the fourth-placed, Portugal, and the Netherlands, as well as two South American teams, Brazil and Argentina, and the Moroccan national team.
On the first day of the quarter-final matches, Brazil will face Croatia, while the Netherlands will play against Argentina. 
Read more: The World Cup 2022: Important stats to date
Additionally, Morocco will confront Portugal on Saturday, Dec. 10, while England will face France.
The question: Who can predict a football game better? Kashef, the popular Artificial (AI) robot, or humans?
Kashef analyzes more than 200 metrics, including the number of wins, goals scored, and FIFA rankings, from matches, played over the past century to predict his match winners.
But how accurate has Kashef been?
After 56 matches played overall this World Cup, Kashef has a 68 percent accuracy level. Every day, Kashef processes new data, honing its skills at predicting and updating which team will most likely make it to the next round.
Who will make the quarter-finals?
Predicting match results is no easy task. External factors like team morale or player fitness make a big difference in how the game goes.
Brazil is still the favorite to win the tournament, according to Stats Perform's artificial intelligence model, which estimates the probability of every match outcome using team rankings and betting odds based on historical team performance.
Quarterfinals: Brazil over Croatia; Argentina over the Netherlands; Portugal over Morocco; France over England
Semifinals: Brazil over Argentina; France over Portugal
Final: Brazil over France
Soaring rents
The FIFA World Cup in Qatar has attracted millions of tourists to Dubai and Abu Dhabi.
Real estate agents, accommodation firms, and tenants say some landlords in Qatar sought unrealistically high rents, which has left thousands of rooms vacant.
Many fans have chosen to stay outside Doha and jet in for matches, using up to 500 daily shuttle flights from nearby cities like tourist hub Dubai that Qatar Airways' chief said were laid on partly in response to what he called "a shortage of accommodation".
Exclusives