November 7, 2022 11:30 am
World leaders flock to COP27 to discuss climate change reparations
British Prime Minister will demand from countries to keep their promises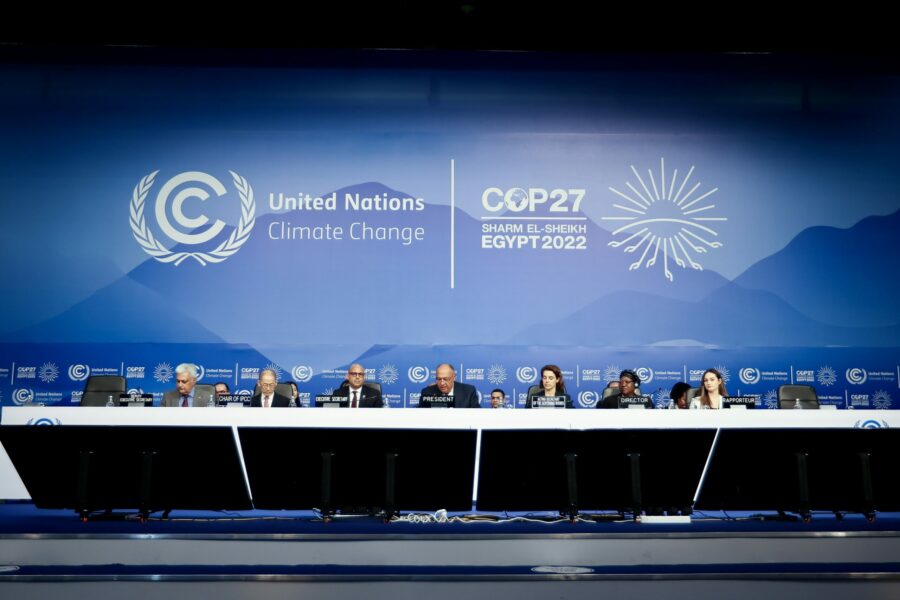 COP 27 conference kicks off on Sunday
From Monday onwards, world leaders will flock to COP27 in Sharm el-Sheikh, with "loss and damage" being officially on the agenda Sunday, pointing to the repercussions of climate change that are expected to reach extreme levels.
Some 110 heads of state and government will speak  Monday and Tuesday with delegates gathered in Sharm el-Sheikh as part of COP27. It is planned that British Prime Minister Rishi Sunak, who decided at the last minute to participate, is using his speech on Monday to inform world leaders of the need to deliver on their climate promises.
Envoys from some 200 countries opened the conference on Sunday by agreeing to discuss compensating poor countries for the increasing damage associated with global warming and putting the controversial issue on the agenda for the first time since it began talks related to climate change decades ago.
These damages are estimated at tens of billions from now on and are expected to continue to rise significantly. The recent floods, which have inundated a third of Pakistan alone, have caused estimated damage of more than $30 billion.
In the face of these repercussions, weak states are demanding a special financing mechanism, but rich states are reticent to do so, fearing that they will be formally held responsible and stating that the climate finance system is sufficiently complex in its current state.
Crises shaking the world
These interventions come against the backdrop of multiple interrelated crises shaking the world, namely the Russian invasion of Ukraine, hyperinflation, the risk of a recession, the energy crisis with renewed support for fossil energy sources, and the food crisis, all while the world's population will exceed eight billion people.
This "multifaceted crisis" could take the climate change crisis to second place in the list of priorities.
Speaking at the opening of Sunday's launch of the conference, UN climate chief Simon Steele said: "All crises are important, but no crisis has major repercussions such as climate warming, the devastating consequences of which will continue to 'worsen'."
The head of the climate summit, Egyptian Foreign Minister Sameh Shoukry, said that Egypt will spare no effort in leading international action to confront climate change.
"We look forward to the climate summit being a milestone in multilateral collective action. The COP27 climate summit will provide the best conditions to address climate change."
Failure of States
However, states remain accused of failing in what they should do to combat warming.
Greenhouse gas emissions should fall by 45 percent by 2030 to have a chance of achieving the most ambitious 2015 Paris climate agreement target of limiting warming to 1.5 degrees Celsius compared to the pre-industrial era.
But the current pledges of signatories, even if ultimately respected, will lead to emissions rising by 5 to 10 percent, putting the world on an upward trajectory of 2.4 degrees Celsius at best by the end of the century.
However, with current policies, warming is expected to reach 2.8 degrees Celsius, which is catastrophic, according to the United Nations.
In a sign of the "decline" feared by many, only 29 countries have submitted plans to COP 2021 to increase their pledges to cut emissions even though they have passed a "charter" calling on them to do so.
Possible announcements of further emission reductions will be highly anticipated in Sharm el-Sheikh.
The world is also eagerly awaiting announcements of financial aid to poor countries, which are usually the most vulnerable to the repercussions of climate warming, even if their responsibility for them is limited as their greenhouse gas emissions are very small.
Biggest Absentee
The Conference is being held in the absence of two main parties. Chinese President Xi Jinping is absent from COP27, while his US counterpart Joe Biden will pass by Sharm el-Sheikh quickly on Nov. 11.
However, cooperation between the two countries, which export the highest level of greenhouse gas emissions and whose relations are extremely tense, is vital.
Exclusives