March 17, 2023 2:00 pm
Bailout of First Republic led by major US banks
Bank's stock has dropped 70% in the last nine trading sessions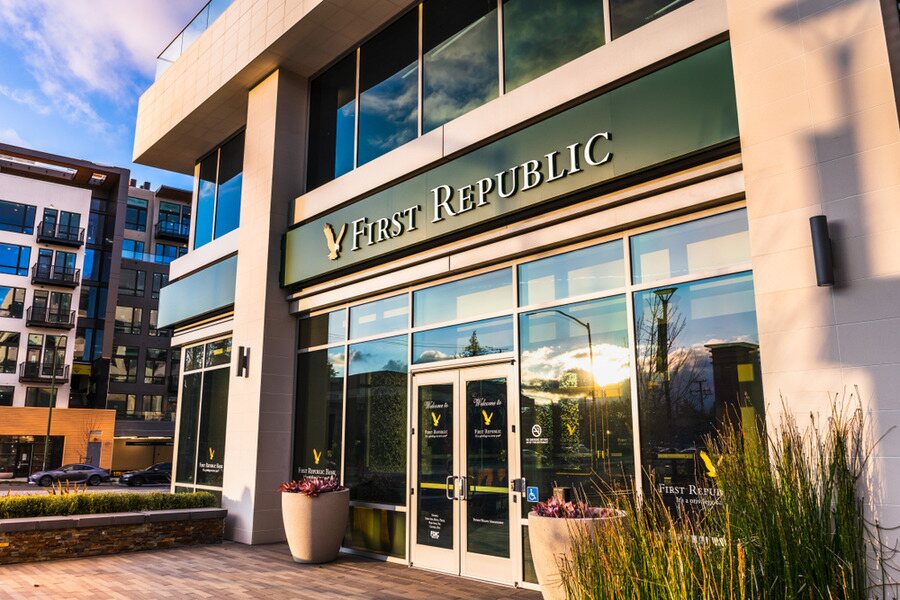 First Republic Bank
The focus returned to the United States after three regional banks (Silvergate, Silicon Valley, and Signature) were added to the list of failed banks within a week. The fourth lender, the medium-sized First Republic, appears to be in a similar situation after its shares plummeted in the aftermath of the SVB crash.
The collapse of SVB last week sparked several days of market turmoil, and the Swiss Credit Suisse bank was drowned into its trap on Wednesday, forcing it to borrow up to $ 54 billion from the Swiss Central Bank to support liquidity and restore investor confidence.
Bloomberg reported on Wednesday evening that First Republic was considering a sale after its stock dropped 70% in the previous nine trading sessions. However, Wall Street rushed to the First Republic's aid on Thursday, depositing $ 30 billion to get the bank out of its predicament.
Read more: SVB repercussions: Global banking stocks suffer big losses
JPMorgan, Bank of America, Citigroup, and Wells Fargo will each contribute approximately $5 billion, while Goldman Sachs and Morgan Stanley will each contribute roughly $2.5 billion. Each Trust, PNC, US Bancorp, State Street, and Bank of New York Mellon will deposit approximately $1 billion.
In a statement, the group of banks stated, "This action by America's largest banks reflects their confidence in First Republic and banks of all sizes and demonstrates their general commitment to helping banks serve their customers and communities."
According to a First Republic announcement, deposits will be held for at least 120 days.
First Republic's executive chairman Jim Herbert and CEO Mike Roffler said in a statement that "we would like to share our deep appreciation" for the 11 banks.
The bank had said Sunday that it had more than $70 billion in availability liquidity, not counting additional funds it could raise from the Federal Reserve's Bank Term Funding Program, but that was not enough to keep investors from dumping the stock.
On Thursday, the bank said that it had about $34 billion in cash as of March 15, not counting the new $30 billion in deposits. First Republic had borrowed tens of billions of dollars from the Federal Reserve and the Federal Home Loan Bank over the past week but daily deposit outflows have now "slowed considerably," the bank said. First Republic is also suspending its common stock dividend.
After the support announcement, First Republic's stock rose about 10% in afternoon trading yesterday, erasing the losses it had suffered earlier after trading was suspended several times during the session.
The agreement was praised by US Secretary of Treasury Janet Yellen, Federal Reserve Chairman Jerome Powell, and other government officials, who said, "This show of support by a group of large banks is most welcome and demonstrates the resilience of the banking system."
The question today: Did saving the First Republic put an end to the banking crisis?
For more on banking and finance, click here.
Exclusives