On the first day of the World Economic Forum in Davos, Switzerland, the head of the International Monetary Fund, Kristalina Georgieva, launched positive attitudes about the near-stagnant global economy.
During the forum, which is held under the slogan "Cooperation in a Fragmented World", she said that the days when the IMF was revising the regular global ranking are almost over after the Fund was forced in October 2022 to cut its global growth forecast three times due to the acceleration of negative events and their repercussions on global economies.
Georgieva predicted that 2024 will be "a year in which we finally see the global economy on an upward trend," after growth is at its lowest level this year and down by half a percentage point versus 2022. She said that global economic growth is expected to slow further in 2023 to around 2.7 percent, but the slowdown is also expected to reach its full extent this year.
Georgieva doesn't see a downgrade in the credit rating now, "but growth in 2023 will slow,"
This optimistic outlook does not mean that central banks will start cutting interest rates. "We're not there yet," because inflation is still "very high."
"Central banks need to be careful not to pull their feet off the brakes too early," Georgieva said.
Read: IMF does not see inflation in Egypt waning before 2024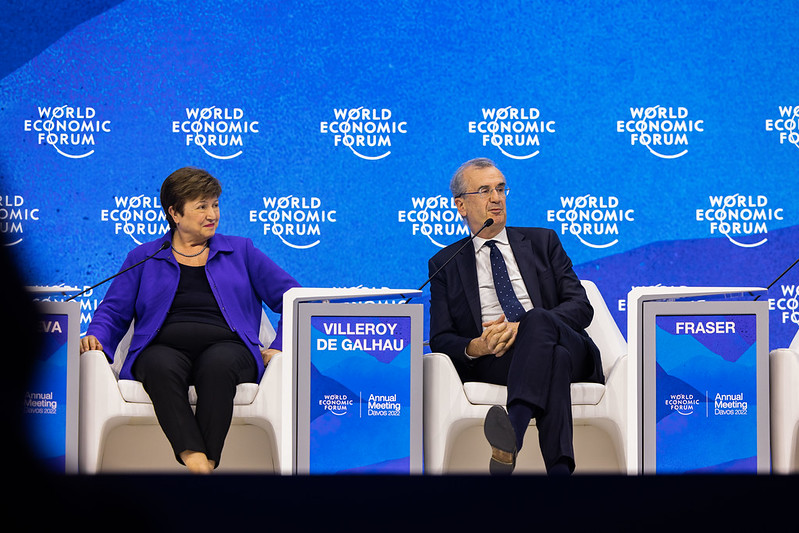 Fragmentation costs the economy 7% of output
As the forum was underway, the International Monetary Fund released a report that fragmentation could cost the global economy up to 7 percent of GDP.
The longer-term cost of fragmenting trade ranges from 0.2 percent of global output to nearly 7 percent, roughly the combined annual output of Germany and Japan, according to the report, The " Gordian knot of challenges " faced by policymakers today.
The report did not say how long it would take for the fragmentation to affect growth of this magnitude.
Depending on the definition of "fragmentation," some IMF projections look even bleaker. Estimates that include a technological disconnect between regions suggest that countries could lose up to 12 percent of their GDP.
The IMF lists a number of factors contributing to increased global fragmentation, including the Russian-Ukrainian war and the COVID-19 pandemic.
"The danger is that political interventions adopted in the name of economic or national security could have unintended consequences, or could be deliberately used for economic gain at the expense of others," the report said.
It lists restrictions on cross-border migration, low capital flows, and low international cooperation as various types of schizophrenia.
IMF does not expect that all countries will feel the effects of fragmentation equally.
According to the report, low-income consumers in advanced economies will not have access to cheaper imported goods, leaving small open market economies particularly vulnerable.
"Most Asian countries will suffer because of their heavy dependence on open trade," the report said. Emerging and developing economies will also stop benefiting from the "spillover effects of technology" from more advanced economies, which in the past have helped boost growth and living standards.
"Instead of catching up with income levels in the advanced economy, the developing world will decline further," the report said.
The IMF has recommended three approaches to tackle fragmentation: strengthening the international trading system, helping vulnerable countries deal with debt, and intensifying climate action.
Poll
The Global Economist Forum conducted a survey that found that two-thirds of senior public and private sector economists surveyed predicted a global recession in 2023.
Some 18 percent of those surveyed considered a global recession "highly likely" – more than double what it was in the previous poll conducted in September 2022. Only a third of respondents felt it was unlikely this year.
"Current high inflation, low growth, high debt, and a high retail environment reduce the investment incentives needed to return to growth and raise living standards for the world's most vulnerable," World Economic Forum Managing Director Saadia Zahidi said in a statement accompanying the survey results
The survey was based on 22 responses from a group of leading economists from international agencies, including the International Monetary Fund, investment banks, multinational corporations, and reinsurance groups.
For more IMF news, click here.