MENA infrastructure spending will be impacted as China's BRI – or Belt and Road Initiative – program recalibrates in response to macroeconomic conditions in 2023.
In 2019, President Xi Jinping pledged a readjusted BRI 2.0 to benefit all participating countries. 
Authorities and companies were urged to apply readjustment measures in their BRI activities. These readjustments ranged from project refinancing and debt deferment to promoting third-party market cooperation and prioritizing more environment-friendly projects.
READ MORE: China's Silk Road initiative pushing its way through the Gulf
"BRI 2.0 can benefit from increased transparency, open procurement with competitive bidding, and better risk assessment in project selection," said IMF managing director at the time, Christine Lagarde.
"The new debt sustainability framework that will be utilized to evaluate BRI projects is a significant move in the right direction."
BRI in 2022
The refined approach is likely starting to influence BRI investment alongside macroeconomic conditions. 
The Shanghai-based Green Finance & Development Center's (GFDC) 2022 annual report shows BRI investments in 2022 totaled $67.8 billion, only slightly lower than $68.7 billion in 2021. 
Middle Eastern countries expanded cooperation with China in 2022. They received 23 percent of Chinese BRI engagement last year, up from 16.5 percent in 2021. 
The engagement represented 21 percent of Chinese investment volume in 2022 – twice the share (10.2 percent) in 2021. 
The region could also benefit as Beijing looks to align with regional non-oil diversification national visions. These mandates include areas where Chinese firms have expertise, such as smart cities, renewable energy, and nation-building infrastructure.
China's BRI projects in MENA
Mohammed Shukri, chairman of Iraq's Kurdistan Investment Commission, said in January the body is studying a proposal by China's Gezhouba Group to invest $10 billion in local projects.
Shukri said the offer covers rail, power, roads, and water projects. But it is unclear if it is part of the landmark 2019 oil-for-projects deal under which Chinese firms will undertake projects in the Arab country in exchange for crude oil supplies.
READ MORE: Will China be the channel to achieve global growth in 2023?
In 2019, Egypt signed a $3 billion loan with the Industrial and Commercial Bank of China to establish a central business zone in its New Administrative Capital.
An Egyptian-Chinese consortium won work on a 543-kilometer high-speed rail link in 2020 connecting Ain Sokhna and Alamein. 
BRI projects in the GCC
Saudi Arabia was the top destination for BRI energy sector engagement in 2022, receiving investments of $5.4 billion. 
A $691 million contract was awarded to China Machinery Engineering Corporation in 2019, marking China's first BRI contract in Bahrain.
That same year, a memorandum was signed for the $86 billion Silk City in Subaiya between China and Kuwait.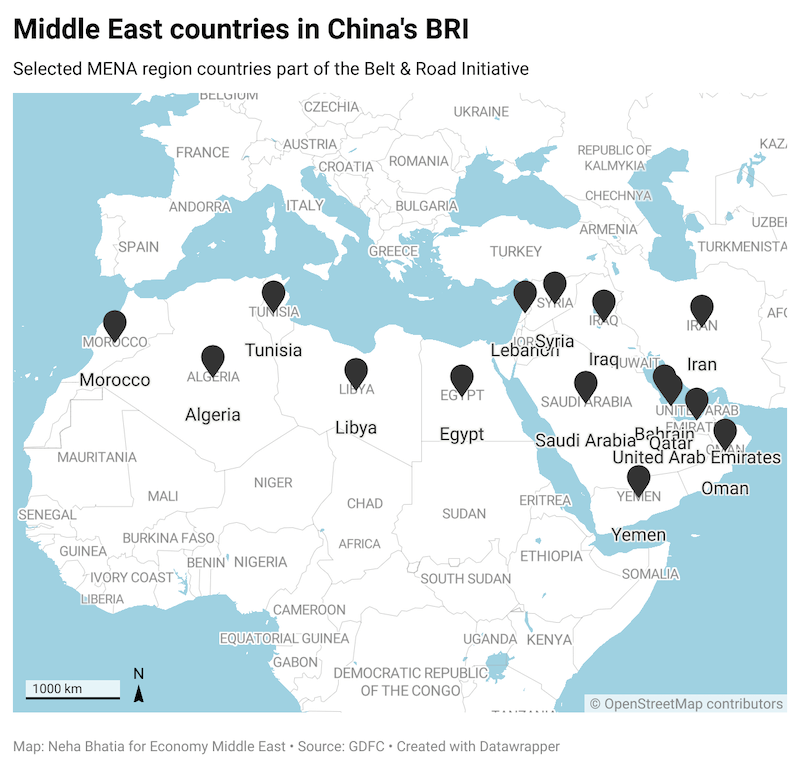 Chinese investments in Dubai are also significant. This includes projects like Motor City, Mohammed Bin Rashid Al Maktoum Solar Park, and Dubai Water Canal. 
In Abu Dhabi, China's Cosco Shipping Ports secured a 35-year concession in 2016 to develop and operate its container terminal at Khalifa Port.
READ MORE: Saudi, China ink 34 investment deals during Xi's visit
"Chinese leadership is committed to merging the BRI with regional development strategies, such as Saudi Arabia's, Qatar's, and Egypt's respective visions, further tying those countries' fates to its own," according to Tuvia Gering, a nonresident fellow in the Atlantic Council's Global China Hub.
"The MENA region is crisscrossed by Chinese-built or bankrolled ports, railways, highways, power stations, pipelines, landmarks, and even entire cities."
Outlook
Slower post-Covid domestic growth could impact how much China can budget as BRI spending moving forwards. 
BRI 2.0 will also be essential to make future spending more efficient. This is particularly essential amid claims of construction flaws in global BRI projects. 
BRI 2.0 is largely a step in the right direction to help iron out complications on future projects. Regional appetite to collaborate with China, too, is high. Both sides will now hope for favorable economic conditions so BRI 2.0 can help grow Chinese influence in Middle East projects.