July 20, 2022 4:53 pm
Is crypto market done hibernating?
Positive sentiment pushing Bitcoin and altcoin prices up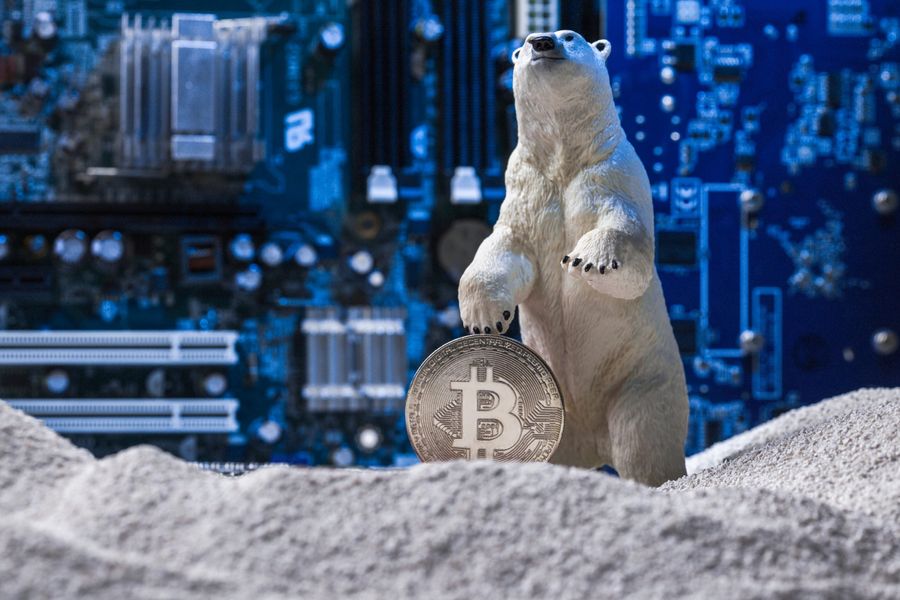 White polar bear holding silver bitcoin
The current bear market is the second major one following  2018 when the market plummeted due to the emergence of several investment schemes that failed using initial coin offerings (ICOs).
The current crypto crash is tied to worsening macroeconomic conditions, including inflation, fears of a recession, and interest rate hikes.
The crypto marketplace has more institutional-based investments as compared to previously being almost exclusively retail-based and has thus been trading in close quarters to the stock market, which had made things worse for digital monies, until recently when stocks began to reverse course.
Bitcoin production costs
According to the investment bank JPMorgan Chase, Bitcoin's average cost of production dropped from $24,000 at the start of June 2022, down to $15,000 by the end of it. It is an estimate of the average cost for mining one Bitcoin per day. The reason for the decline is that miners are computing with more energy-efficient mining equipment to maintain profitability in the current bear market. They have to. As the cost of Bitcoin drops, so does miner profitability. 
So long as the price of Bitcoin holds above this cost, a mining operation remains profitable.  But here's a caveat. 
"While clearly helping miners' profitability and potentially reducing pressures on miners to sell Bitcoin holdings to raise liquidity or for deleveraging, the decline in the production cost might be perceived as negative for the Bitcoin price outlook going forward," JPMorgan strategists, led by Nikolaos Panigirtzoglou, wrote.
When mining costs are lower than Bitcoin's market value, additional miners will join and with supply becoming higher, the price of Bitcoin goes lower, especially in a bear market scenario, where demand is low.   
Yet miners who likely are not able to lower their costs, or use legacy systems are exiting the market, according to CNBC.  
Blockchain analytics firm CryptoQuant said 14,000 bitcoins, worth more than $300 million at the time of exit, were transferred out of wallets belonging to miners in one day in the week ending July 16.
It typically means that miners are selling their previously minted coins in order to cover ongoing mining expenses, especially since inflation and the cost of fuel are high. The crypto market has slumped with bitcoin down nearly 70 percent from its all-time high of around $69,000 in Nov. 2021.
Meanwhile, inflation is on a tear, and the cost of energy is hitting record highs as the war between Russia and Ukraine rages on.
Core Scientific, one of the largest publicly traded crypto mining companies in the US, sold nearly all its bitcoin in June, in order to pay the bills, according to CEO Mike Levitt telling CNBC. 
Core sold 7,202 bitcoins at an average price of $23,000. "It's still profitable to mine bitcoin," Levitt says, registering around 50 percent margins but down from 80 percent margins at its peak.
But despite all that, Bitcoin and altcoins have experienced a price revival of late and might signal a breakthrough from bear to bull.  
Crypto… All rise
Bitcoin broke the $23,000 on Tuesday and was at $23,500 at the time of publishing.
In two days, the largest cryptocurrency by market capitalization has climbed by over 12 percent and drove the price to its highest point since bitcoin collapsed on June 13. Just recently, the size of the industry itself had fallen below $1 trillion from just a few months prior when it was worth over $3 trillion. 
The Crypto Greed & Fear Index which registered as low as 8, or extreme fear, is now hovering at 30, also the highest since April.
Most altcoins gained including the second-largest cryptocurrency Ether (ETH) which rose 6.9 percent to around $1,560. 
Stock performance
Major stock indices were positive since the start of the week. The NASDAQ is working on its third consecutive day to the upside. The Dow and S&P are up for the second consecutive day. 
Often, a rise in stocks will also lift cryptocurrencies. Investors are beginning to feel more optimistic about the economy, inflation, and rising interest rates. Many crypto experts had expected one last major plunge for the crypto market, to levels between $10,000 to $14,000 for bitcoin. 
Apparently, that script is quickly changing. 
Exclusives