January 16, 2023 11:19 am
PIF, Ma'aden agree to establish new USD50 million company
To invest in global mining assets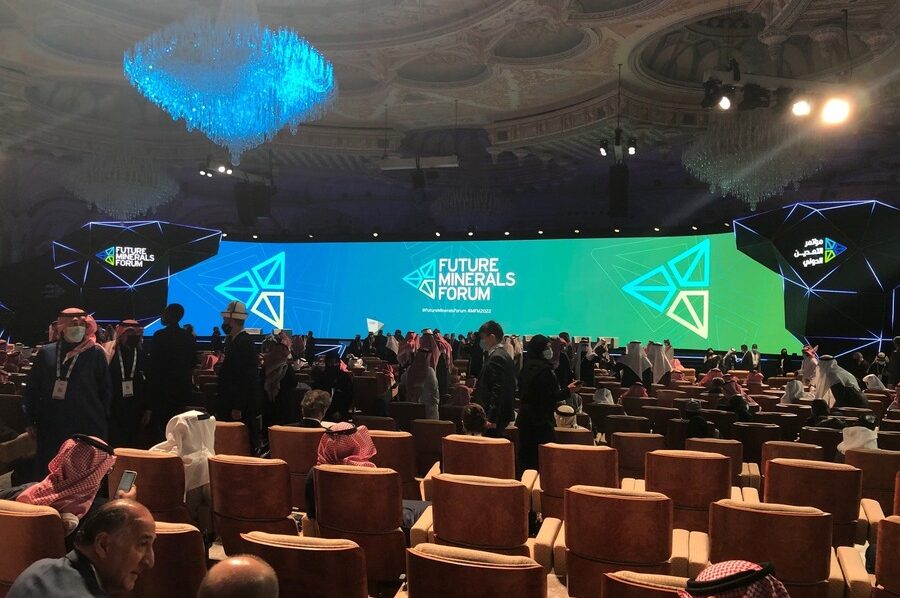 Future Minerals Forum (Image credit: Future Minerals Forum Twitter Handle)
During the opening of the Future Minerals Forum, Saudi's Public Investment Fund (PIF) and the Saudi Arabian mining company (Ma'aden), announced the signing of a joint venture (JV) agreement to establish a new company that aims to invest in mining assets globally to secure strategic minerals that are essential for the Kingdom's industrial development as well as the resilience of global supply chains. The company's capital will be $50 million.
Read more: Saudi Arabia signals Phosphate mining focus as it looks to diversify
The company will be formed after receiving approval from the appropriate authorities and meeting certain conditions of the JV agreement. Ma'aden will own 51 percent of the company, while PIF will own 49 percent.
Additionally, the new firm intends to begin as a non-operating partner with minority equity positions in iron ore, copper, nickel, and lithium. This will ensure the physical offtake of critical minerals for domestic mineral downstream sectors, as well as position Saudi Arabia as a key partner in achieving global supply-chain resilience.
In a separate statement, Ma'aden also said it agreed to acquire a 9.9 percent stake in American minerals exploration and development firm Ivanhoe Electric and form a separate joint venture with Ivanhoe to explore and develop mining projects in Saudi Arabia.
Speaking at the Future Minerals Forum in Riyadh on Jan. 11, the Ma'aden CEO said that the cooperation with Ivanhoe will help Saudi Arabia to uncover the true mineral resources in the Kingdom.
Additionally, Ivanhoe Electric said it had signed a heads-of-terms agreement with Ma'aden, on the sidelines of the FMF, to explore copper, gold, silver, and electric metals in Saudi Arabia.
The statement further noted that the joint venture would provide the possibility of using the Typhoon technology that performs geophysical surveys.
Ivanhoe Electric further added that the joint venture will operate through an equally constituted board of directors and technical committee.
In a statement to Tadawul, Ma'aden said the acquisition will take place for a total amount of 474 million riyals ($126.4 million).
Exclusives