November 11, 2022 11:47 am
Will FED slow down interest rate increases following inflation data?
Markets saw upsurge in after the Ministry of Labor report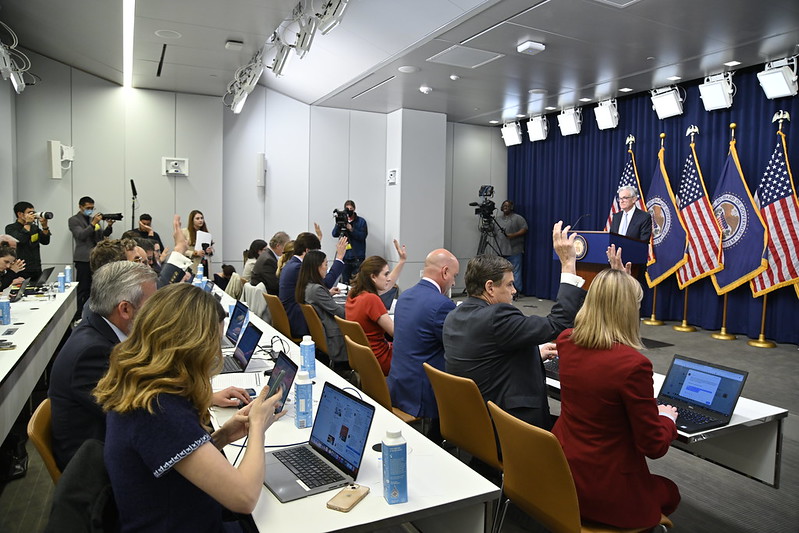 Federal Reserve Chairman Jerome Powell
Fed officials welcomed news of rising inflation at a slower-than-expected pace last month and suggested that interest rate increases could slow in the future.
But they also warned of the intense excitement of the data, saying prices were still too high.
Inflation slowed in the United States as it fell in October to its lowest level since January 2022. But U.S. President Joe Biden warned it would take "time" to return to normal.
Consumer prices rose 7.7 percent year-on-year, according to the reference consumer price index published by the Labor Ministry on Thursday.
Mary Daly, president of the Federal Reserve Bank of San Francisco, said, "One month of data is not a victory, and I think it's really important to think that this is just one piece of positive information, but we're looking forward to a whole bunch of information."
While Daly said the report was "really good news," she noted that the inflation rate remains very high and far from the central bank's 2 percent target.
Similarly, the head of the Federal Reserve Bank of Cleveland, Loretta Meister, said Thursday's report "indicates some decline in general and core inflation," though she noted that the trend remains "unacceptably high," CNBC reported.
The head of the Federal Reserve Bank of Kansas City, Esther George, noted that even as monthly gains fall, inflation is still "uncomfortably close" to a 41-year annual high in the summer.
"As inflation continues to rise, and is likely to linger, it is clear that monetary policy has more work to do," she said.
Markets have seen a huge rally after the Labor Ministry report. The Dow Jones Industrial Average rose more than 1,000 points. The yield on two-year Treasuries fell 30 basis points, to 4.33 percent.
Read: Inflation in the US fell to 7.7% in October
The dollar fell on Friday post the inflation data, raising hopes that inflation had peaked and that the Federal Reserve would begin scaling back its sharp rate increases.
The dollar index stabilized after falling on Thursday but is heading for its biggest weekly decline since March 2020.
Gold prices also fell on Friday but are heading for their biggest weekly rise in more than eight months.
In contrast, oil prices rose on Friday as fears of an economic recession in the United States subsided. But it's heading for a weekly drop of more than four percent after a jump in COVID-19 cases in China, the biggest importer of oil, threatens to weaken fuel demand.
Exclusives